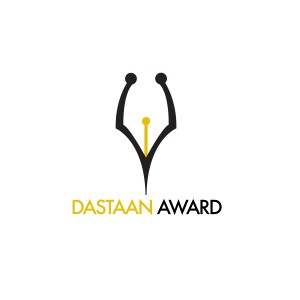 In 2013, Desi Writers' Lounge (DWL) received funding from two benefactors to offer a PKR 50,000 cash prize for its annual short story competition. The prize, called the Dastaan Award, has been set up by Ali Azfar Naqvi and Afia Aslam to support new writing and can be awarded to a writer based anywhere in the world. The recipient of the annual Dastaan Award is chosen independently by the award founders and does not indicate a preference on part of the DWL competition jury for any one of the top three stories.
View the Dastaan Award 2018 Winner
View the Dastaan Award 2017 Winner
View the Dastaan Award 2016 Winner
View the Dastaan Award 2015 Winner
View the Dastaan Award 2014 Winner
View the Dastaan Award 2013 Winner
Dastaan is the Persian word for 'tale'. The South Asian dastaan was typically an epic text that was transmitted through dastaan-goi or oral storytelling. Some of the most famous dastaans known to the world are Dastaan-e Amir Hamza (The Adventures of Amir Hamza) and Tilism-e Hoshruba (Enchantment of the Senses). In the Urdu language, 'dastaan' has a wider meaning including long epics, stories, and even single incidents, but the word retains the feeling of a powerful and interesting narrative that engages its audience at every level. The founders have set up the Dastaan Award in this spirit.
At present, the award is only available for original, unpublished short stories submitted through the DWL annual short story contest. Details about the 2018 edition of the short story contest are now available on the contests guidelines page.
– Don't forget to read the winning stories of DWL's annual short story contest.
– For more info on the short story contest, visit our Contests page.
The Dastaan Award Winner 2018
The 2018 Dastaan Award goes to Neha Rayamajhi for her story Pink Frock.
Neha Rayamajhi is a social worker and a storyteller from Nepal. Born and raised in Kathmandu, she currently resides in Boston, Massachusetts. Her work revolves around decolonial politics, diasporic nostalgia, and joys of re-imagining an anti-oppressive future. Neha holds a Master's degree in International Development and Social Change from Clark University, Worcester, Massachusetts. Find her tweet @NehaRaySays.
Judges' Note: There is a surprising amount of material to unpack in this compact story. In just three pages, using a fairly mundane event as a backdrop, Neha Rayamajhi lightly skips through multiple heavy themes—racism, feminism, sexuality and parenting—thus demonstrating their intersectionality, the breadth of their impact, and the terrible consequences of denial.

Read Pink Frock
The Dastaan Award Winner 2017
The 2017 Dastaan Award goes to Darlene P. Campos for her story Mason Jars.
Darlene P. Campos earned her MFA in Creative Writing from the University of Texas at El Paso. She is from Guayaquil, Ecuador but she currently lives in Houston, Texas with an adorable pet rabbit named Jake. She is the author of Behind Mount Rushmore, published through Vital Narrative Press. She is working on her second forthcoming novel, Summer Camp is Cancelled, which features characters from "Mason Jars." Her website is www.darlenepcampos.com.
Judges' Note: Mason Jars impressed the judges with its superb tonal equilibrium. Humour is one of the most challenging things for a writer, particularly in a storyline involving themes of grief or loss. It was rewarding to see Campos strike just the right balance between poignancy and hilarity in this tale about an eleven-year-old boy who must deal with the reality of his grandfather's death while ensconced in the care of his over-protective, slightly dotty family. With well-developed characters and voices, good pacing, and wonderful depictions of familial interaction – Mason Jars is a very special coming-of-age story. Read Mason Jars
The Dastaan Award Winner 2016
The 2016 Dastaan Award goes to New Zealand-based Indian writer Rijula Das for her story Notes from a Passing.
Rijula Das was born in small town West Bengal and has since gone on to live in different parts of the world. She has recently completed a PhD in Creative Writing from Nanyang Technological University, Singapore, where she also taught writing classes for two years. She currently struggles daily with her recalcitrant first novel in faraway New Zealand.
Judges' Note: A father-son relationship marked by distance and a lack of communication might be a commonplace theme in fiction, but in Notes from a Passing, Rijula Das makes it extraordinary through her treatment of the subject. Rijula's diction is poetic and graceful, and her narrative is filled with wisdom and insights that are at once heartrending and satisfying. Notes is a wonderful example of meticulous writing. The descriptions seem to have been forged with care and precision. Notes will hold your hand and take you along on an exploration of grief as its narrator begins to anticipate and understand the immeasurable dimensions of the loss of a parent. Read Notes from a Passing
The Dastaan Award Winner 2015
The 2015 Dastaan Award goes to UK-based Indian writer Deepa Anappara for her story After a Hijacking.
Anappara is a freelance writer and editor from India currently based in the UK. Her short stories have been published in the Bristol Short Story Prize Anthology (Volume 6), Once Upon a Time There was a Traveller: Asham Award-winning stories, Five Degrees: The Asian Short Story Prize 2012 Anthology and Beyond the Border. She is about to start her master's degree in creative writing at the University of East Anglia, Norwich.
Judges' Note: After a Hijacking deals cleverly with the human psyche as it is bent around by circumstances. The story's exploration of the roles life experiences thrust upon us and the we respond is intelligent and insightful. Anappara's tone and style, and the voice of her precocious child protagonist create a powerful impact that does justice to the equally powerful transformations occurring in the characters' lives. Read After a Hijacking
The Dastaan Award Winner 2014
The 2014 Dastaan Award goes to New Delhi-based writer Anubha Yadav for her story The Song of Bismil.
Yadav is a a writer, academic and film-maker based in New Delhi. Her short fiction has appeared or is forthcoming in Wasafiri, Jaggery, Himal, The Indian Literature, Cha: An Asian Literary Journal, Out of Print, and others. She has been shortlisted for the Wasafiri New Writing, 2013. Her work can also be read here.
Judges' Note: Yadav's greatest accomplishment in this story is that she took a typical character, gave him an atypical job and used this weird combination to subtly explore issues much larger than the character or the setting. Through her character's greed and ambition for social mobility, Yadav masterfully gives us a haunting glimpse of violence, state and non-state terrorism, social apathy and bureaucracy. It is a picture not limited to the Kashmir valley or to India, people in developing countries all over the world would be able to relate with these issues. Read The Song of Bismil.
The Dastaan Award Winner 2013
The first-ever Dastaan Award goes to Sucharita Dutta-Asane, who is currently based in Pune, India.
Sucharita Dutta-Asane is a writer and independent fiction editor based in Pune. In 2008, she received Oxford Bookstores debuting writers' (second) prize for her anthology, The Jungle Stories. Her short stories have appeared in various national and international anthologies like the Africa-Asia anthology Behind the Shadows (Amazon Kindle), 2012; Zubaan's Breaking the Bow, an anthology of speculative fiction based on The Ramayana (2012); Ripples, Short Stories by Indian Women Writers (2010) and Unisun Publications' Vanilla Desires (2010). Her articles, book reviews, short stories, and a novella, Petals in the Sun, have been extensively published across electronic publications such as Asian Cha, Open Road Review and The Bangalore Review among others.
Judges' Note: Sucharita Dutta-Asane has written a remarkable story that deftly and delicately breaks down the awful spectre of big-city violence. On a technical level, the piece meets almost all the traditional criteria of a 'good story', but the writer's real triumph lies in the way she controls her audience, gently manipulating and guiding the reader to an end that will change the way most of us think about the cities we inhabit. Read Rear View.