Being Bhaijaan: Salman Khan as Hero and Villain
SHARE THIS ARTICLE
Is a thing a thing by itself or does our sadhna make it so? Does the binary of heroes and villains defy our intuitive cultural notion of devotion, one that embraces and even celebrates infallibility? Samreen Farooqui and Shabani Hassanwalia, directors of the documentary Being Bhaijaan, look at the idea of Salman Khan through the eyes of his fans, and find that what they might be seeing is the archetypal idea of Shiva, the god that is beyond all good and evil.
******
In the closing scene of Kick (2014), arguably our favourite Salman Khan film, one that released in the closing days of editing our documentary Being Bhaijaan, police officer Himanshu Tyagi (Randeep Hooda) is being fired for not being able to capture his archenemy, Devil. The police officer is being replaced by a new one, an Inspector Devi Lal, who walks into frame in slow motion, giving enough time for our applause to rise and fall and rise again. In a deux ex machina that would leave even the most ardent Bunuel fans impressed, we now have Salman Khan, aka Devi, in a police uniform, looking for Devil, aka Salman Khan in a black mask.
We have been thinking about Salman Khan for the last few years; some years more deeply than others. Like in the year Maine Pyar Kiya was released, we weren't old enough to think, but feel we did. Everyone felt something for Prem. We watched Maine Pyar Kiya again recently, and then every film till he disappeared from the nation's collective psyche after Kuch Kuch Hota Hai in 1998 and until he re-entered it with Wanted in 2009.
The Salman Khan who left and the Salman Khan who came back were two different people. The one who left was a gentle lover, the eternal premi. The one who returned was a killer, a vigilante. In between the two Salman Khans was Tere Naam (2003), arguably his greatest performance, in which the eternal lover is severely punished for being in love and descends into what we now know as a legendary mad spell. We didn't know that even when Salman Khan had disappeared from the urban Indian's imagination, in the smaller towns, if our sources are to believed, the Tere Naam haircut commanded a premium fee even as late as 2007.
Anyway, between the ostensible leaving and the providential return, Salman Khan off-screen was implicated in three high profile court cases, accusing him of hunting (2006), harassment (2002) and homicide (2002), respectively. Yet the legal wrangle was but a mere itch in the divine comedy that is stardom.
The crowd screamed bhaijaan bhaijaan bhaijaan, and as that friend later said, he felt he was witnessing a pagan ritual whose codes of meaning had been passed down subliminally.
In a darkened theatre in Meerut, the year Wanted released, a friend sat on a smelly seat of a single screen talkie. Groups of men around him were working themselves up into a frenzy as on-screen, Radhe (Salman Khan) twirled his bracelet, priming for the kill. The tandava (an orgy-like, vigorous dance that is the source of the cycle of creation, preservation and dissolution) travelled like a wave through the theatre. At a crucial moment in the film, just as Bhai seemed beaten by the villain, everyone in the theatre took off their shirts en masse and roared. On cue, Salman Khan tore off his own and as per ritual, performed his ultimate act of destruction, bare-chested. The crowd screamed bhaijaan bhaijaan bhaijaan, and as that friend later said, he felt he was witnessing a pagan ritual whose codes of meaning had been passed down subliminally.
To quote Joseph Campbell, myths are public dreams and dreams are private myths.
******
We started filming Being Bhaijaan in 2013, to make sense of the deep love and forgiveness Salman Khan's fans carry with them, as they construct an identity for themselves that builds on Bhai's perceived codes of masculinity, justice, power and valour. It's a love and forgiveness that characterizes the universal nature of fandom, and also the universal nature of devotion.
A year later, in the edit room when the rushes of Being Bhaijaan were asking for some coherence, Salman Khan's fans were nudging us to acknowledge a recurring leitmotif: a simultaneous celebration of the star's child-like heroism, and also of his nemesis, Khan's dark, unresolved inner world.
Our gods may not behave heroically, but they do behave authentically. Or as a fan said of Salman Khan, "Bhai ki life mein na, koi acting nahi hai. Sab sach hai."
We as a people, or probably as a culture, have been known to embrace without reason. Our spirit of bhakti (that is, the sentiment of personal devotion and piety upheld in Hindu philosophy) informs our deep engagement with beings earthly and celestial, even as we often replace one with the other. Subconsciously or even unconsciously, we also know that the earthly and the celestial are often the same thing, a matter of perception woven through stories that have passed down in the dark, around the glowing light of fire or the glowing light of a digital projection.
To paraphrase Campbell again, it is only the impudence of this species that makes it think that the way god is, is the way god is. But it's also true that the division between heroes and villains, wherein the former is associated with godliness, is a particularly occidental concept. Here, in the memory fields of the East where we grew up, we have always known that our gods don't always behave heroically. We know that our gods are partial to violence, often lie and steal, give in to despair, sometimes even ennui, and as we know of our favourite Shiva, some have a bit of a temper problem.
Our gods may not behave heroically, but they do behave authentically. Or as a fan said of Salman Khan, "Bhai ki life mein na, koi acting nahi hai. Sab sach hai." ("There's no room for artifice in Bhai's life, it's all real.")
Which is why we consider Kick to be Salman Khan's most authentic film, because he seems to be trying to tell us something real about himself. Salman Khan, who almost never drinks on screen, played an alcoholic for the first time, even if he was in no way weakened by this habit. Born Devi Lal, an upright simpleton (Salman Khan's favourite role), he turns into a violent vigilante, Devil, to protect children entirely unrelated to him after he witnesses the inherent injustice in the world.
The moment of baptism, which turns Devi into Devil, is played out in a familiar high key, and turns him away from the woman he loves to follow his calling. As Devil, he wants to destroy evil, and in a climactic moment points a gun at his lady love's temple to protect himself. With this unheroic act, he convinces you that he exists for something much larger than love, and probably even larger than heroism. He seems to exist only for his authentic self, whatever that maybe, and he does so unapologetically. Much like the ascetic version of Shiva, the eternal bachelor Salman Khan plays characters that don't avenge wrong on lovers or family (of which he has a large, but detached conglomerate), but on society itself.
In its entirety, using most Salman Khan film tropes (rightful wrath, generous mirth, and a collapsed system), Kick makes the argument that Salman Khan no longer cares for what the (then) unpronounced verdict on his life is going to be. He asks you to accept that he is both Devi and Devil, and that both exist for a reason.
Devi L closes Kick with the legendary line addressed to the audience in darkened theatres, delivered straight into the camera: "Mere baare mein itna mat socho. Mein dil mein aata hoon, samajh mein nahin" ("Don't think so hard about me. I appeal to hearts, not minds"). Pardon our apophenia, but in Bhagavatam, X1, Ch XXII, similar words were spoken. "Good and evil of this world of duality are unreal, are spoken of by words, and exist only in the mind." Can it be true that Salman Khan understands this about us? That our minds and intellect are not enough to grasp notions of good and evil, whether we see him as the dumbfoundingly innocent Bajrangi in Bajrangi Bhaijaan (2015), or the righteously wicked conductor of justice in Bigg Boss as its host/anchor, or in the deeply vulnerable footage of his exit from one court hearing after another? Can it be true that he asks us all to trust how we feel about him because he knows that what we call good depends upon the existence of what we call evil?
Salman Khan's undeniable fallibility seem to make him immeasurably infallible.
Documenting the experience of bhakti in all its shades is a journey in Dialectics 101. It is said about Shiva (of whom Salman Khan happens to be a serious devotee), that he is a non-being, the fact of which doesn't deny the existence of being. He is said to be darkness, but not because of an absence of light. He is the kind of darkness that holds light within itself.
We are often asked why Salman Khan's hit and run trial is not a visible part of our documentary. We realized much later that it's not there because it's already there. In each conversation with the fans where they talk about how Salman Khan gave them an identity to hold on to, where they talk about his kindness, they acknowledge his darkness. They do so silently, and they do so with platitudes. "Bhai ko gussa aata hai. Bhai insaan hai. Insaan se galti toh hoti hi hai." ("Bhai gets angry. Bhai is human. Humans err.") Salman Khan's undeniable fallibility seem to make him immeasurably infallible. As Balram, a 26-year-old textile salesman and a character from Being Bhaijaan puts it, "Sangharsh ke baad hi heera nikalta hai" ("Only after struggle does diamond emerge"). As the fans see it, the buri cheezein (bad things) happened to Salman Khan because of his 'nature', his 'character.' The struggle to keep that nature under check only made him purer and primed him for rebirth.
Often considered an outlaw in the pantheon of gods, Shiva insists on the self as the only path to salvation. As the story goes, during his wedding to Parvati, there were no names to be read out to claim his parentage. Much to the presiding gods' confusion, Narada explained, "This one has no parentage, no heritage, no gotra, all he has is himself…he is swayambhu, the self-created."*
Salman Khan is that hero, who relies on himself unreservedly, and asks you to be unforgiving of anything that distracts you from that sadhna.
It's a self inextricably linked to the body. Salman Khan is doing one-hand push-ups as early as 1989 in Maine Pyar Kiya, and spends many scenes bare-chested in the erotic (recognized in hindsight) love story. Shan Ghosh, a Salman Khan impersonator known as Junior Salman of Nagpur, and the protagonist of Being Bhaijaan, told us that men started building their bodies to imitate Salman Khan after the release of Veergati. But that's an expert detail. Folklore would point the date to the release of Pyaar Kiya Toh Darna Kya (1998) and the jeans-only dance to the superhit O O Jaane Jaana.
Seventeen years since this song came out, in our travels in some parts of north and west India, we found more gyms than dhabas. In many ways, a contemporary retelling of the traditional akhara, the local men-only gyms seem to be building an army to fit into tight tees, but only ostensibly. Other apopheniacs will tell you that the rise of the muscled body in India is in direct co-relation to falling employment rates, a failed globalization dream which promised wealth and opportunity for all, and the reality of being the youngest nation in the world. As an economist friend remarked, "Don't be mistaken—we are living a demographic nightmare. There is no conceivable way to productively employ 356 million young people."
Why we choose our heroes is also why we choose our gods.
******
A story goes that when Shiva the Adiyogi first appeared, he was in the middle of his ecstatic dance. The movement was so inconceivably fast that he was stillness itself. Seven seekers stayed around watching him, waiting for knowledge to be passed down to them. The Adiyogi made them wait 84 years till they had developed their own sadhna, their own practice of yoga, because as he told them, there is no knowledge, there is only preparation*.
If Salman Khan has a temple, it's in the local gyms of India.
In a different time and place, in an indifferent, inequitable land, after the first flush of globalization was taking its last breath, Salman Khan asked men in India to do the same with their bodies. "Mein Bhai se milna chahoonga, lekin abhi nahin. Pehle body bana loon, six pack waali. Arms at least 18 inch…" ("I would like to meet Bhai but not yet. First let me build my body, six pack-waali") says Balram in the documentary.
Photo: Shan at the gym, still from Being Bhaijaan
If Salman Khan has a temple, it's in the local gyms of India. It's a temple that teaches you that in an unreliable universe, the only thing you can rely on is the strength you build for yourself. Strength to protect and strength to destroy. A kind of strength that's only enhanced by his bachelorhood. The preservation of the sacred semen, a traditional akhara custom, has seen a revival among many of Salman Khan's fans, inspired by a self-propagated mythology of the star's virginity, and aided by the disproportionate gender mixing in most towns and smaller cities of India.
In a country where friendly and normalised access to the opposite sex is only the privilege of upper-class city folk, Salman Khan's unwitting remarks on his own bachelorhood gives his male fans a sexual alibi, one which they are not blind to. When Balram says, "Agar Salman Khan shaadi karenge, toh unke saath unke ek crore fans shaadi karlenge. Phir jo population control mein hain, voh toh bas…" ("If Salman Khan marries, then his one crore fans will also marry. Then the population that is in control will…"). No one laughs louder at the thought, as much as Salman Khan's fans themselves.
******
If there is one way to map a changing India, it is through its women. With an unprecedented literacy rate (65.38% as per the last census), access to technology and the subsequent exposure to a global culture, women in India are increasingly exercising choice, especially when it comes to career and love. As we were told in our research days, "Ab toh ladki mana kar deti hai shaadi se agar usko ladka nahin pasand. Ab yeh ladkon ko kaise samjhaye?" ("Nowadays women refuse to marry if they don't like the prospective groom. How to explain this to the men?")
As Shan says in Being Bhaijaan, "Duniya modern hoti jaa rahi hai, lekin mera traditional se modern hone ka process thoda slow hai…uss way mein mein Bhai ke jaisa hoon. Unhone bhi shaadi nahin ki kyunki unko apni maa ke tarah ek ladki chahiye. Lekin vaisi ladkiyan to market se khatam ho rahi hain…" ("The world is becoming modern but my process of transition from traditional to modern ways is slow…in this way I am like Bhai. He didn't marry because he wants a woman like his mother. But such women are becoming increasingly rare in the market…")
In fact, as one sits through one Salman Khan film after the next, his incredible detachment from anything other than the act of destruction is hard to miss.
The cinematic Salman Khan's whimsical moral code – "Mujhpe ek ehsaan karna, ki mujhpe koi ehsaan nahi karna." ("Do me a favor—don't do me any favors.") – has little faith that the physical world will ever redeem itself – "Is napunsak samaj mein antim vijay asatya, anyaay aur adharm ki hoti hai." ("In this impotent world injustice and evil ultimately win.") – and maintains an ongoing dialogue with death, "Mein apna antim sanskaar kar chuka hoon," ("I have conducted my last rites,")/"Mein maut ko takiya aur kafan ko chadar banakar ghoomta hoon." ("I go about making death my pillow and coffin my quilt.")
In fact, as one sits through one Salman Khan film after the next, his incredible detachment from anything other than the act of destruction is hard to miss. Especially in his relationship with women. As Balram asks us, "Have you ever seen Salman Bhai kiss? Have you? No, right. That's because he never has." Shiva, the god who is simultaneously associated with virility and asceticism, with love and renunciation, is also the father of the bachelor-god Kartikeya. Salman Khan's bachelorhood for five decades in a culture obsessed with marriage and family gives him a mythic glory reserved for those that stand on the margins of society—the lone warriors and the mad poets.
Speaking of which, Salman Khan plays characters that descend into madness in two major films, Kyon Ki and Tere Naam. He is also probably the only star who has two of his leading ladies playing a psychiatrist to his patient (Kyon Ki and Kick). As a friend remarked, maybe what we all respond to is the fact that Salman Khan never really fits in. He is never adult enough, or good enough, or sane enough, or sober enough. He seems to be at sea when it comes to the rules that society holds dear, and on-screen and off, he often makes his own rules.
Jaggi Vasudev in his writings on Shiva called him 'the ultimate outlaw'.  In his words, "If you read through the Shiva Purana, you cannot identify Shiva as a good person or a bad person… We are vagabonds who will not go by the rules set by nature. Nature has set some laws for human beings – they have to be within that. Breaking the laws of physical nature is spiritual process. In this sense, we are outlaws, and Shiva is the ultimate outlaw. You cannot worship Shiva, but you may join the Gang."
Well, they do call him Bhai.
Roughly four years after Wanted released, we were in Janki Talkies, Nagpur, on the first day first showing of Salman Khan's Jai Ho, to try and understand for ourselves, the many meanings behind the pagan ritual no woman could partake in. We had been shooting with Shan Ghosh, who's also a beloved bhai to textile salesman Balram and the engineer-at-heart, Bhaskar.  (Ghosh is known as 'hamara Salman' on the very intense Jai Salman Whatsapp group, Jai Salman being the ubiquitous takiya kalam, each time they greet a fellow Salman fan.)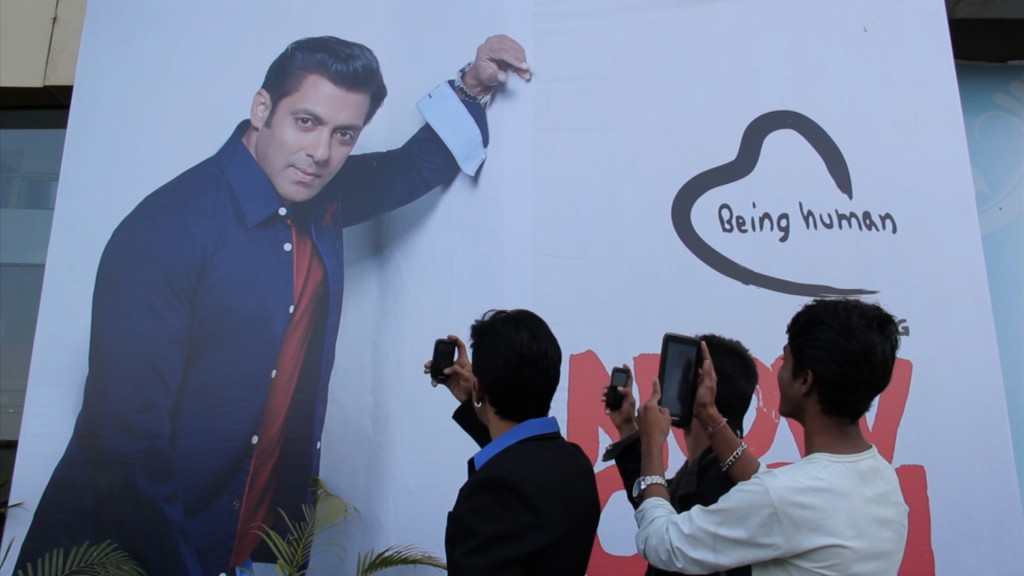 Photo: Shan, Balram and Bhaskar in Nagpur
Along with other Salman fans, we all watched Jai Ho, breathless and moist-eyed, knowing that what we were actually recording was the boys' collective search for a larger identity, to replace the very ordinary one life handed out to them. But because we are such a dialectic culture, it wasn't an identity that asked them to choose between this or that, good or bad, hero or villain. Instead, it pushed into our archetypal psyches and said, you are both, and that's why you are.