Sister
SHARE THIS ARTICLE
Word of the Day: Sister
Pronunciation: siSS–TAer
intransitive verb
Definition
*jammed Rubic cube
*foxfires over quicksand
*jewel dust
Usage Graph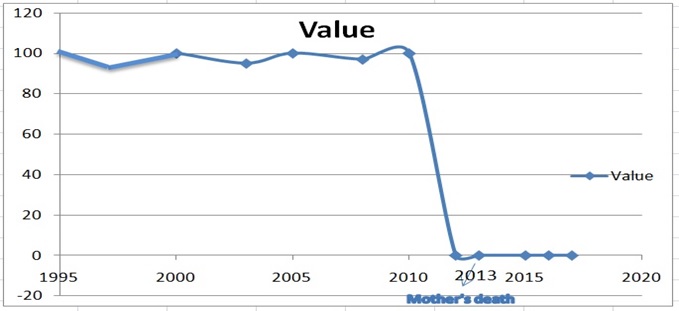 Did you know?
"Sister" possible originates from the Sanskrit sneha, meaning
bond of friendship or from the Late Latin  sympathia  "fellow-
feeling" and  from the Greek   sympatheia  "affected by like
feelings".
History of the dead medium:
Now a retronym it emerges on evenings of distant thunder, when
the sky's cauldron is stirred by its resident dragon. For example:
When a shaken star streaks towards alien shore
Unstoppable its hurtle towards some irresistible lure.
Strange
this pull set to collision course despite
the wails it trails
in idiolects uncountable
that converge
as single dirge.
Think the word's antidote:
amethyst burning in jade opium pipe
a tear of mirth quaking
the mirror's mercury
sapphire songs shafting copper clouds.
But diversions
don't work.
Hear the suspiration
of a woman awaiting death
who knows her hopes are cobwebs to be swept
kisk-kisk
as she snakes as smoke  air  akasha
dissipating
into anamnesis sparking in synapses
when the pyre drops an ember.
In its smoulder
the rune appears:
Beware. You are un-sistered.
Remember, rather, the word's gleam –
peal of twilit temple bells
amber childhood confidences preserved like fly in resin
mother's helpless laugh, her throat's lily rearing to the sky
-and pickle this
in mango sap spiced
with bees
stunned by plenitude
that outlasts their blurry lives.
Or be narrow in vision.
Gaze into a well laced by tree silhouettes
throw a stone. Peer
through ricocheting ripples of black glass.
Seek the word.
There – its root of violence, the perfume
blossoming in pleasure's undergrowth
beneath laughter's lapping shadows.
Ask your reflection that small question: why?
did a wondrous word moulder?
Towers climb around shoulders
tsunamis rise
wars' death rattle grows.
Ask why.
Continue asking
as towers crumble into rubble
then to dust that blows in eyes.
'Sister' is now a loanword
from no known living language
yet its sound
slits
veins.
Pray
to not be your own prey.
Time slides to show its sidereal profile
twirls elliptical hoops around itself
– a Sufi purling in deep space –
and trolls your question in its wake.
You'll never know when this word's death began.
Just its end.
Mind the mind.
Ponder
can a dead
medium avatar anew if unwilling?
You know the answer.
Borrow the river's tongue rife with rubbish
and holiness.
And get going.