Indian-American writer Jhumpa Lahiri has won the 2015 DSC Prize for South Asian Literature for her novel The Lowland.
The DSC Prize jury announced the winner on Thursday at a ceremony at the ongoing Jaipur Literature Festival in Jaipur, India.
Lahiri was among five authors shortlisted for the prestigious $50,000 award. Her fellow nominees for the prize included the Urdu critic and writer Shamsur Rahman Faruqi, Sri Lankan born British author Romesh Gunesekera, and Pakistani novelists Kamila Shamsie and Bilal Tanweer.
And Lahiri takes the prize home! #DSCPrize #JLF2015

— Desi Writers' Lounge (@desi_writers) January 22, 2015
In a readers' poll conducted by DWL before the winner announcement, voters had picked Lahiri to win the prize with a slender majority.
The DSC Prize, now in its fifth year, is awarded to an original or translated English novel and is open for writers of any nationality and ethnicity as long as their writing is about South Asia and its people, according to the DSC Prize website. In a press statement, the DSC Prize co-founder Surina Narula said the prize "remains focused on recognizing the best talent writing about the South Asian region and bringing it to a larger global audience."
The international jury of the 2015 DSC Prize included prolific poet Keki Daruwalla, author John Freeman, Razi Ahmed, the founding director of the Lahore Literary Festival, and Professors of English Maithree Wickramasinghe from Sri Lanka and Michael Worton from the United Kingdom, according to a previous DWL report.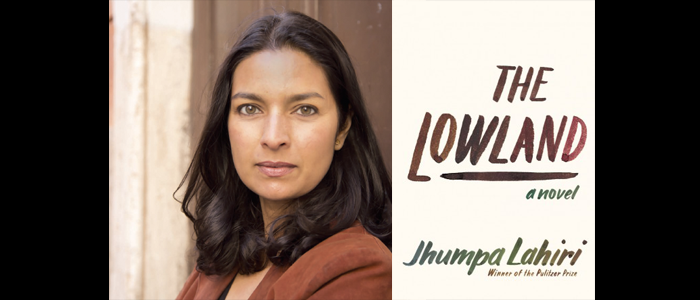 Lahiri's novel The Lowland presents a powerful and emotional family saga, with Lahiri's signature theme of South Asian immigrant experience in the West and a mix of the political with the personal.
"The Lowland is a superb novel written in restrained prose with moments of true lyricism," DSC Prize Jury chair Daruwalla said at the ceremony, according to a DSC Prize press statement. "It starts with a sense of loss and trauma due to the death and then the ongoing presence of a key character. The novel is partly political and partly familial, starting with an unromanticised account of the Indian Naxalite movement and ending with a series of individual emotional resolutions."
Lahiri, who won the Pulitzer Prize in 2000 for her collection of short stories Interpreter of Maladies, joined the Jaipur ceremony via Skype after the announcement and thanked the jury and the DSC Prize committee for the award.
Jhumpa Lahiri addresses the audience live from Rome! Congrats Jhumpa! #DSCPrize #JLF2015 @RHIndia pic.twitter.com/v0tkCipoHA — Penguin Books India (@PenguinIndia) January 22, 2015
Earlier, the four shortlisted authors who attended the event read passages from their nominated books.
Bilal Tanweer chose a passage about getting off a bus in Karachi from his nominated debut novel The Scatter Here is Too Great. Kamila Shamsie read two separate passages from male and female characters from her selected book A God in Every Stone. On Lahiri's behalf, Caroline Newbury, VP Marketing and Publicity of Random House India, read a passage that "describes the haunting scene of the lowland where her novel's central action takes place."
Romesh Gunesekera, whose novel's protagonist is a driver for hire, compared waiting for taxis and buses to waiting for sentences and stories, in his short speech. Shamsur Rahman Faruqi had some unforgettable words from his book to share (see tweet below):
"No life lives forever, and dead people never return." Simple truths. #ShamsurRahmanFaruqi #TheMirrorofBeauty #DSCPrize #JLF2015

— Desi Writers' Lounge (@desi_writers) January 22, 2015
According to the DSC Prize committee, "the last four years have had winners from three different countries in South Asia – HM Naqvi from Pakistan (Homeboy, Harper Collins, India), Shehan Karunatilaka from Sri Lanka (Chinaman, Random House, India), Jeet Thayil from India (Narcopolis, Faber & Faber, London) and Cyrus Mistry from India (Chronicle of a Corpse Bearer, Aleph India)."
Read More: DWL's previous coverage of the DSC Prize for South Asian Literature